The Largest Single Day Fundraiser
for Muscular Dystrophy Canada
To all valued sponsors, volunteers and participants,
With the lingering uncertainties and current restrictions associated with COVID-19, Shad's R&R Board of Directors have decided that it is again best to cancel this year's event – which would have been scheduled for Thursday, June 10th.
As an industry, we've been supporting MDC for more than 45 years and donated more than $5M. Although the event itself may again be cancelled, the need for support doesn't stop; in fact, that need is now greater than ever knowing all fundraising activities have been severely challenged over the last year.
Our Industry found ways to continue functioning around this pandemic. Proof that this Industry is far too resilient and committed to bow to an invisible foe. For the same reason, we're asking that you keep the Industry's commitment to SHAD's and the legacy alive. We may not meet in person this year, but that shouldn't stop us from again coming together as an industry to support the needs and challenges of those afflicted with neuromuscular disorders.
Please consider donating any amount you may be able to this year whether personal or corporate. We've created a special donation site in conjunction with MDC. You can find this at https://my.crowdchange.ca/2xiqfw.
All donations will be issued a tax receipt and we'll be doing our best to recognize those who can keep our SHAD's commitment alive in trade publications and wherever else we may be able to. Big or small – every dollar will be important!
On behalf of the Board, we thank you again for your very generous support of Shads over the years and we wish all of you and your families the very best through these continuing uncertain times.
Looking forward to seeing everyone together again on Thursday, June 9th, 2022.
Sincerely,
Brad Shaddick
Chairman
Shad's R&R For the Kids
Fred Shaddick – Namesake
The dynamic and full of life Fred Shaddick was a dedicated and respected business leader in the Automotive Aftermarket. He had an established reputation for being genuine, sincere and always looking for ways to "give back". Fred loved people, the industry and his job. He also loved to have fun! Fred Shaddick was the genesis for this tremendous industry event. After more than 45 years and over $5.2M in donations, the SHAD's R&R charity golf tournament hosts over 300 aftermarket executives from across the US and Canada each 2nd Thursday in June carrying on Fred's legacy of "giving back".
So it's told…
Story has it that Shad's began in 1973 when a small group of automotive professionals engaged in a late evening of off-site planning. Having strategized to the wee hours of the morning, they reportedly opted for an early round of golf rather than returning somewhat dishevelled to their respective offices. Following the round, it is told that a sombre mood of "remorse and regret" overcame this group as they considered their last 24 hours. Seeking relief from these feelings, they determined all might feel better through an act of kindness and decided to provide some money to a worthy charity. Thus was the Shad's R&R (R&R – remorse & regret) For the Kids charity golf tournament born.
Early Beginnings
The first SHAD's event raised about $500 and they all thought it would be a good idea to repeat this again the following year. More industry people got involved as the tournament grew over the years, with more and more money being raised each year. Muscular Dystrophy was chosen as the charity of choice after much research. It was determined that Muscular Dystrophy had the least amount of administrative overhead with most of their donations received being directed at actual research and providing assistance for those afflicted by neuromuscular disorders. This remains true today – and why Muscular Dystrophy Canada remains the benefactor of the Shad's R&R tournament.
An Industry unites for a single cause
As Shad's grew, a Board of Directors was established with many having volunteered their time over the years. As current Chairman, Brad Shaddick (Fred's son) explains; "SHAD's is operated on a zero overhead basis – everyone pays their own way and all monies raised are donated to MDC.
The success of this tournament is due in fact to the coming together of the entire Aftermarket Industry. As my father Fred stated each year until his passing in 2005, "we won't ever pay for celebrities – everyone in this room is the real celebrity for giving back". SHAD's is the one
day where our industry sets aside competitive gloves and manufacturers, suppliers, distributors, wholesalers, retailers and installers come together in support of a single cause – to assist in finding a cure for the tens of thousands of Canadians afflicted by neuromuscular disorders.
It is such a proud moment when we are able to listen to doctors and patients alike of the profound effect our annual donations have – "we are making a difference in the lives of those so afflicted". We regularly have over 300 in attendance from across North America each year and SHAD's is the largest single day fundraiser for Muscular Dystrophy in Canada!"
MDC remembers founder with Fred Shaddick Community Service Award
In 2012, the Muscular Dystrophy Association of Canada created a new award. Each year, the Fred Shaddick Community Service Award is presented to an individual or organization from across Canada that they select as going above and beyond the call of duty in their efforts for Muscular Dystrophy Canada. "The family is very proud of this award – as is everyone involved with Shad's R&R. It's a constant reminder of his and his original colleagues founding purpose – to give back" exclaimed Brad. MD Canada has named Shad's R&R as the recipient twice, once in the inaugural year in 2012 and again in 2017.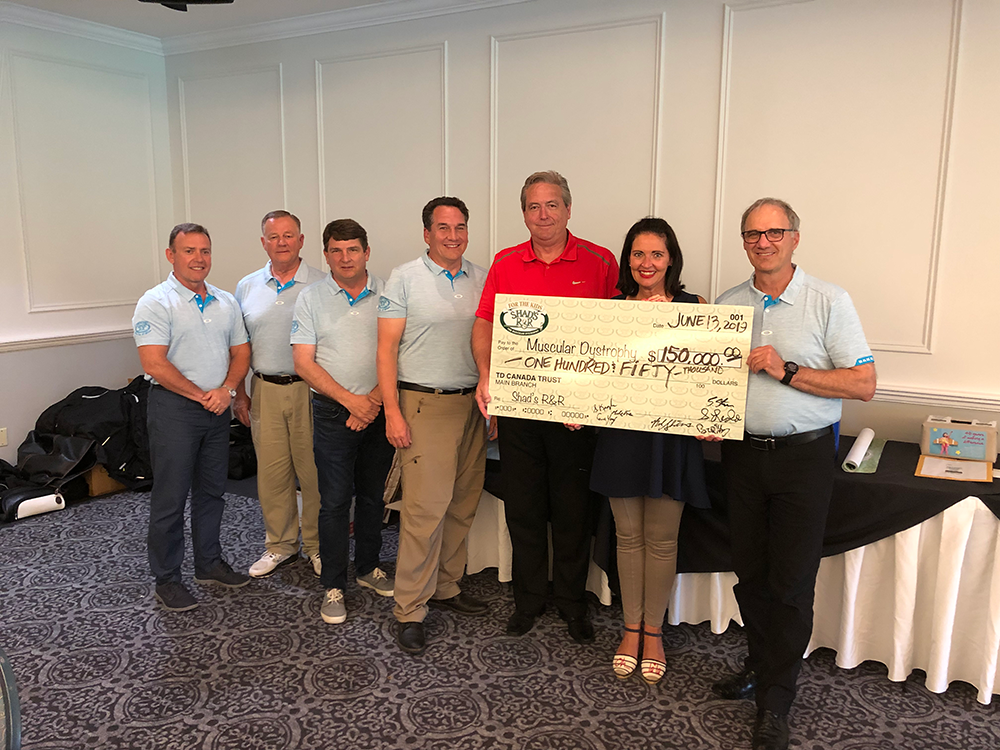 Board members
If you are interested in supporting us and MDC, please contact one of the current Shad's Board members listed below.